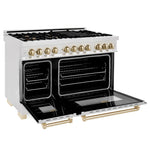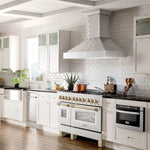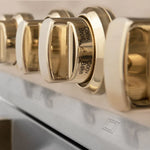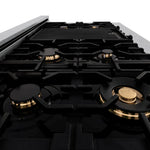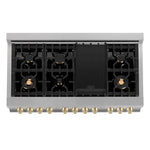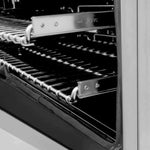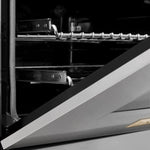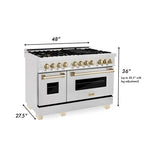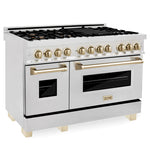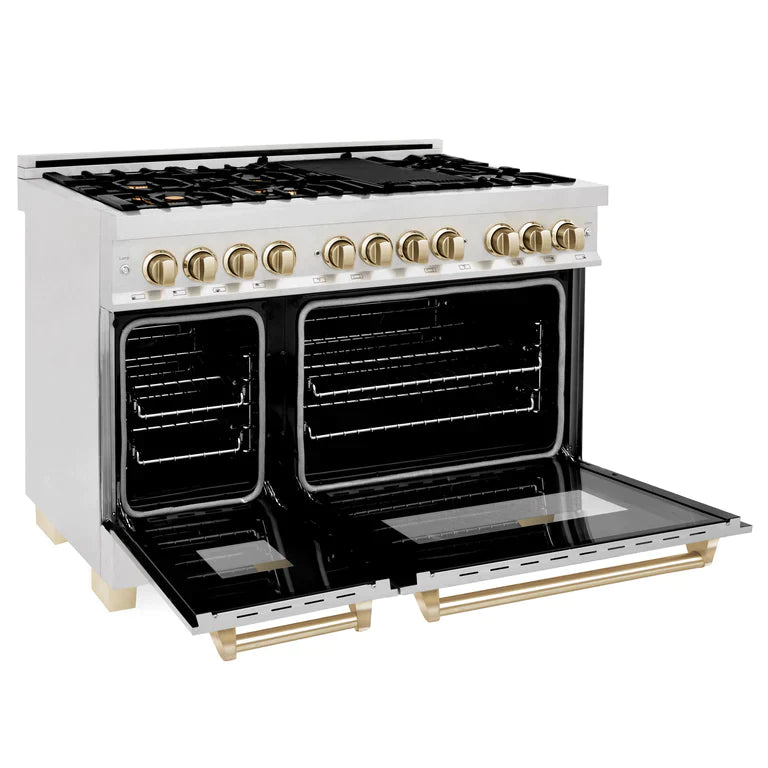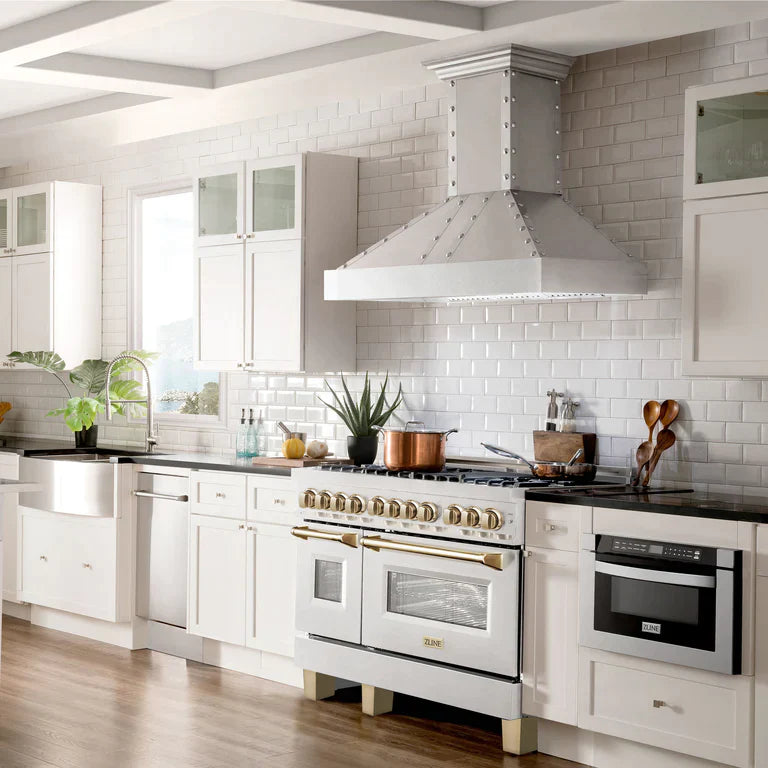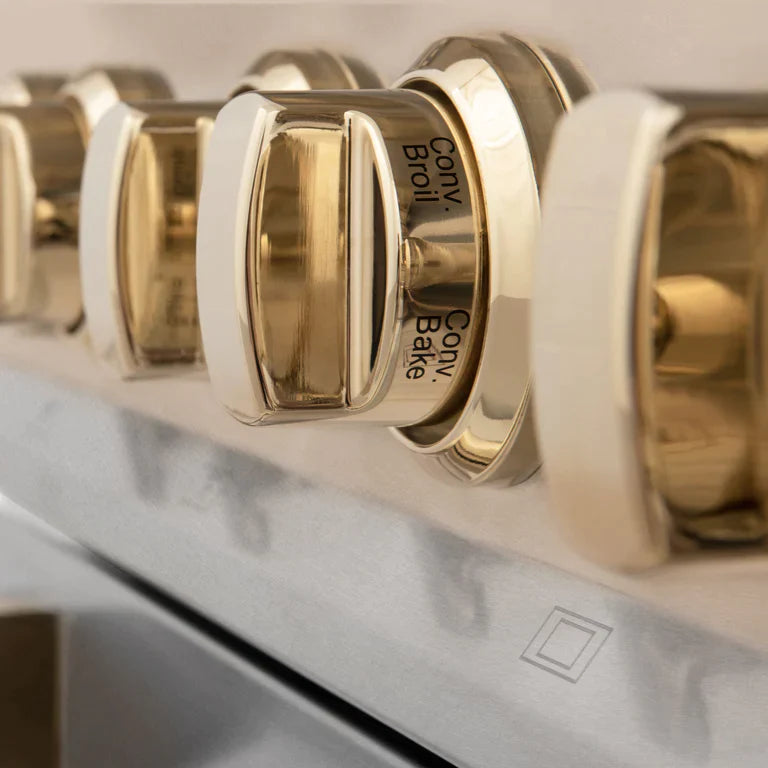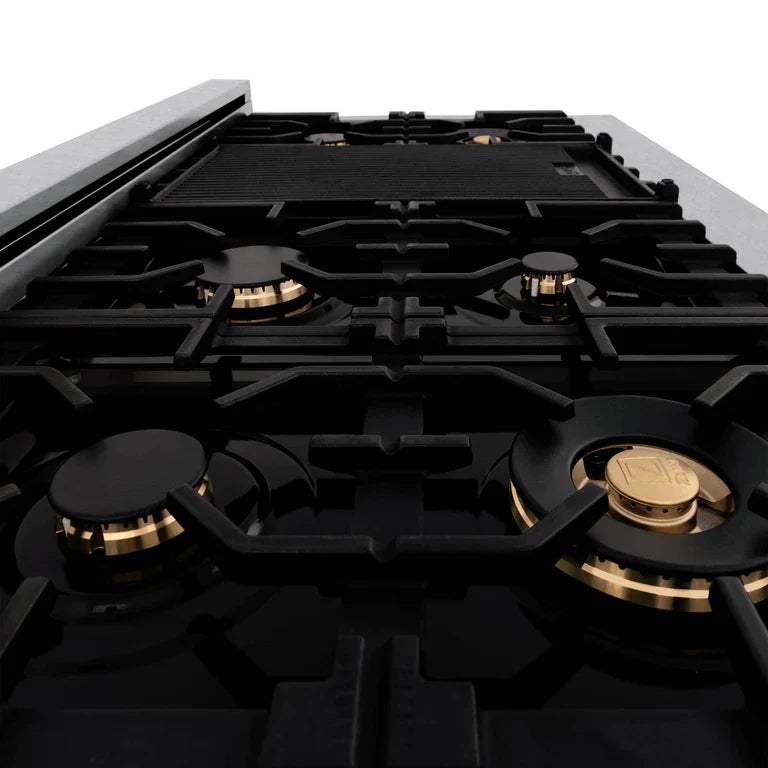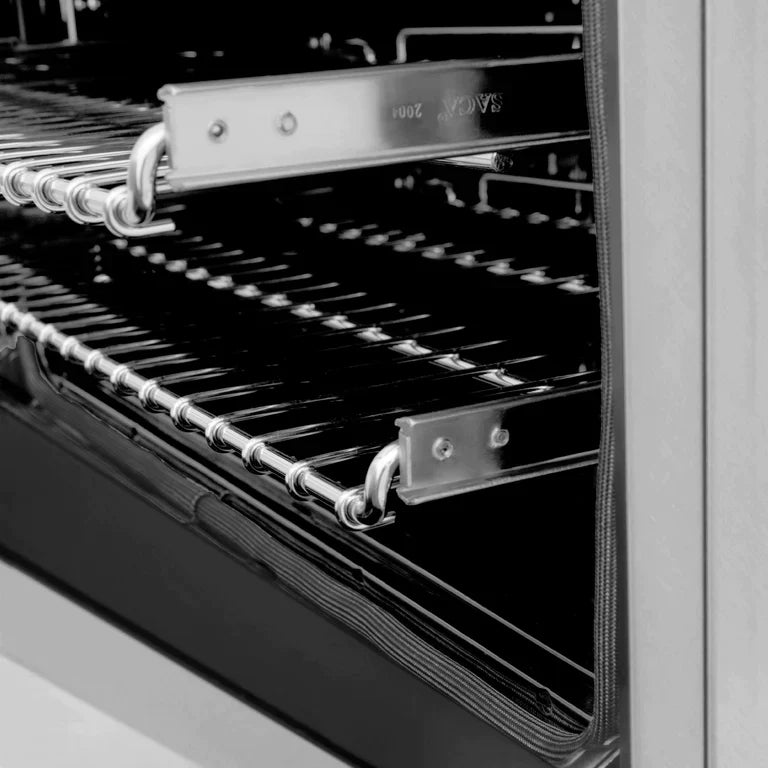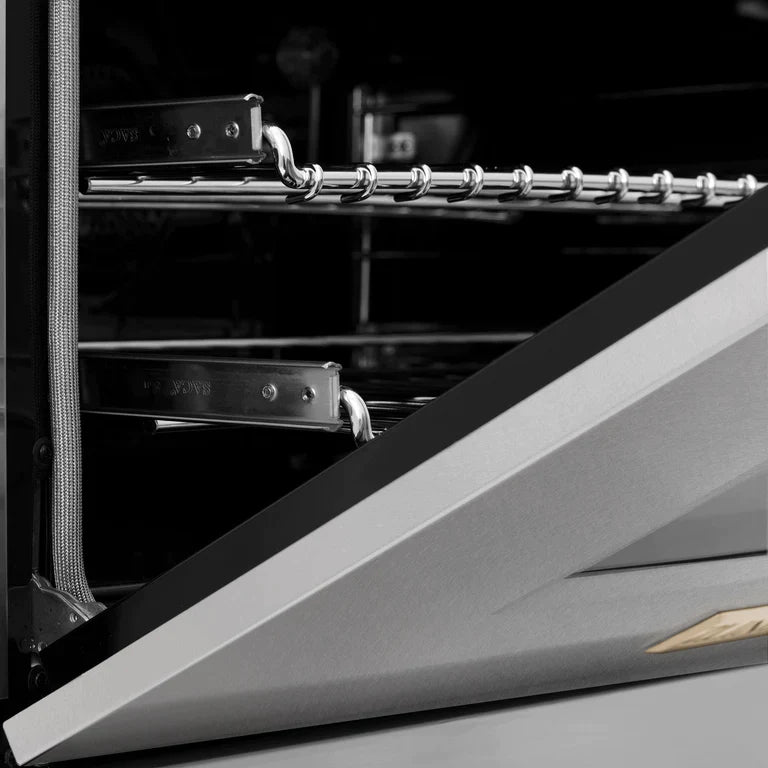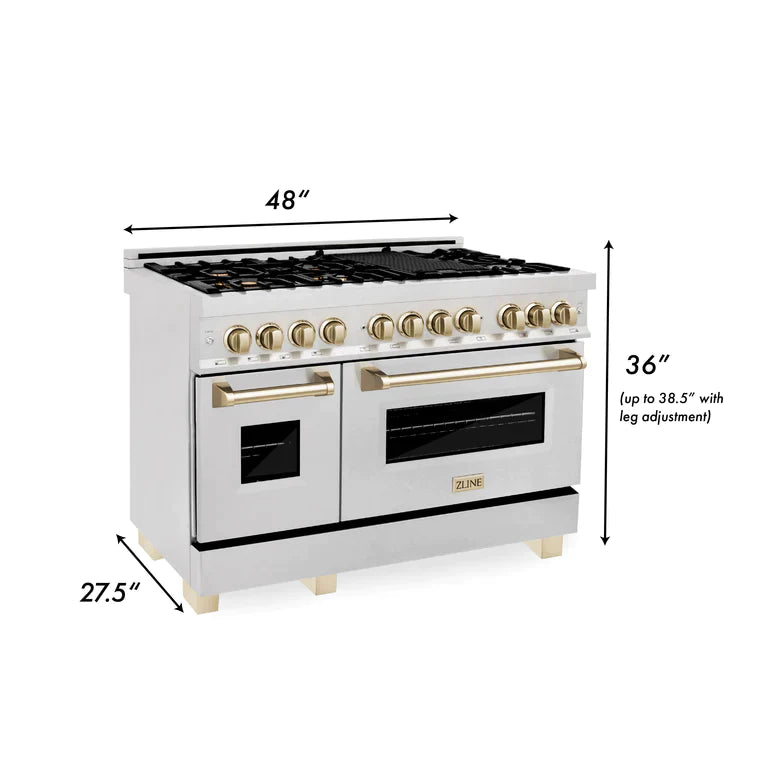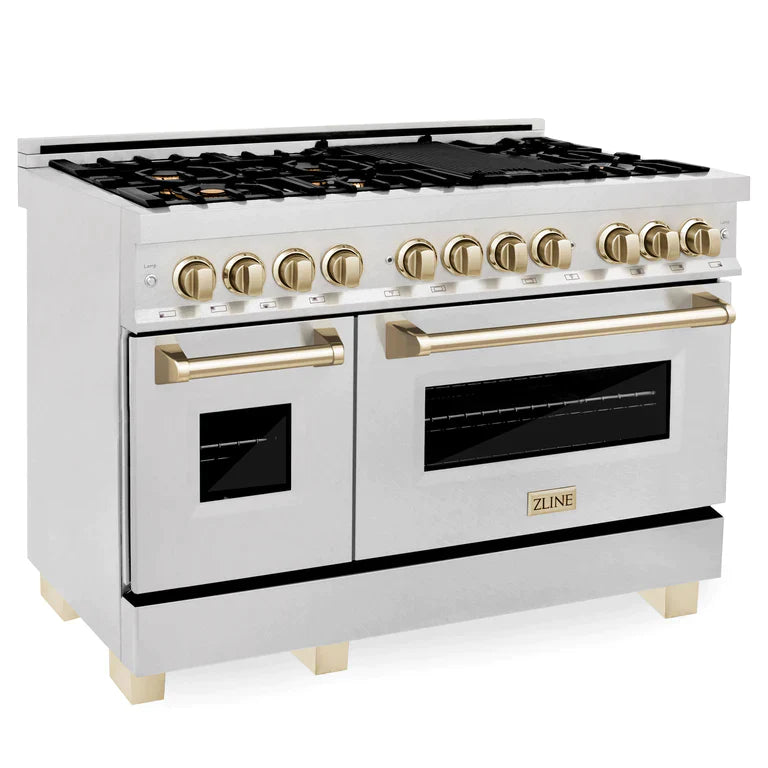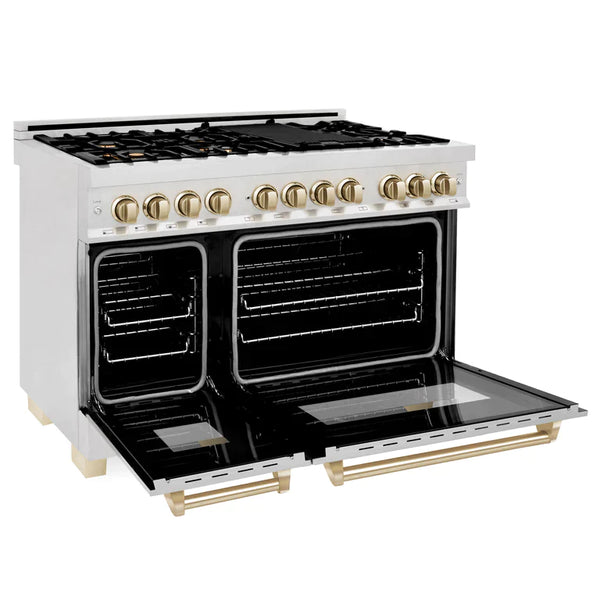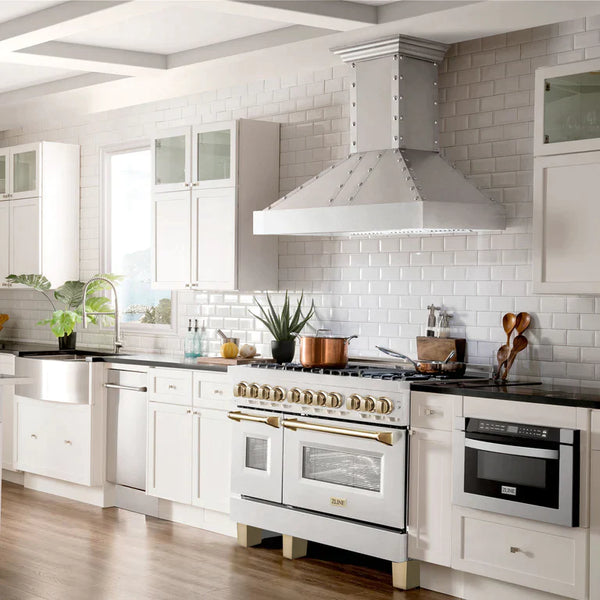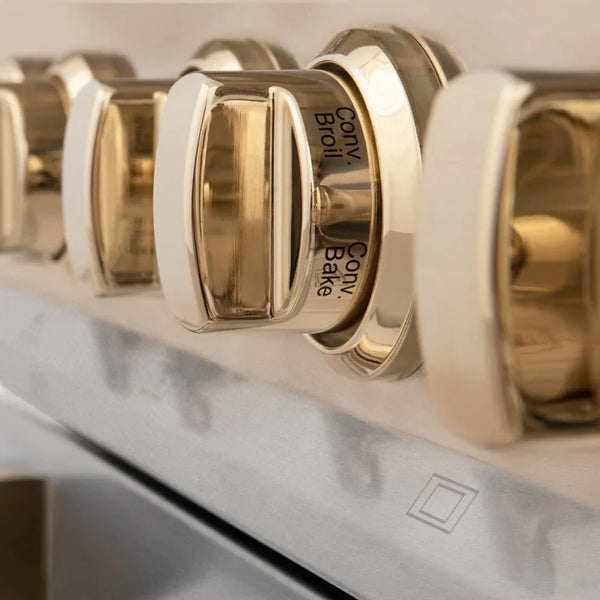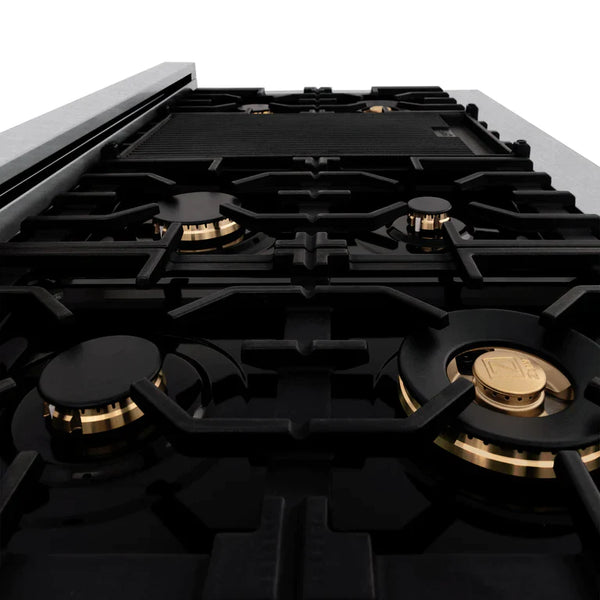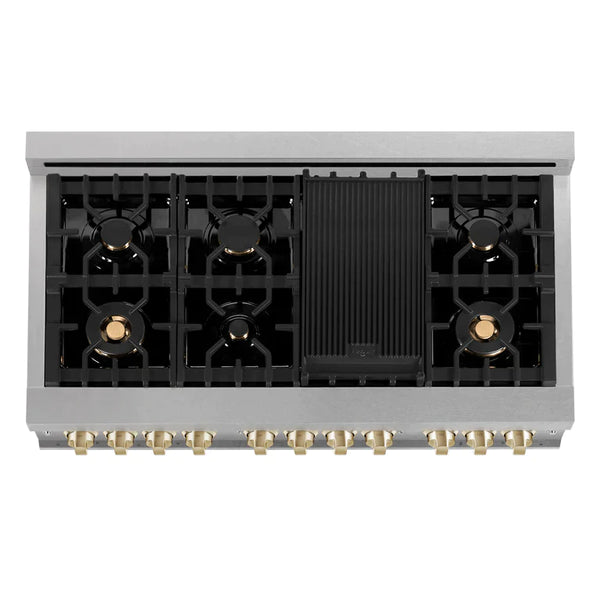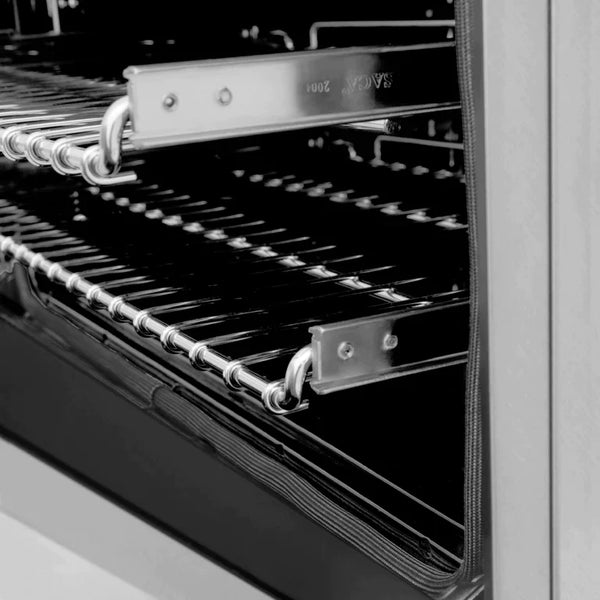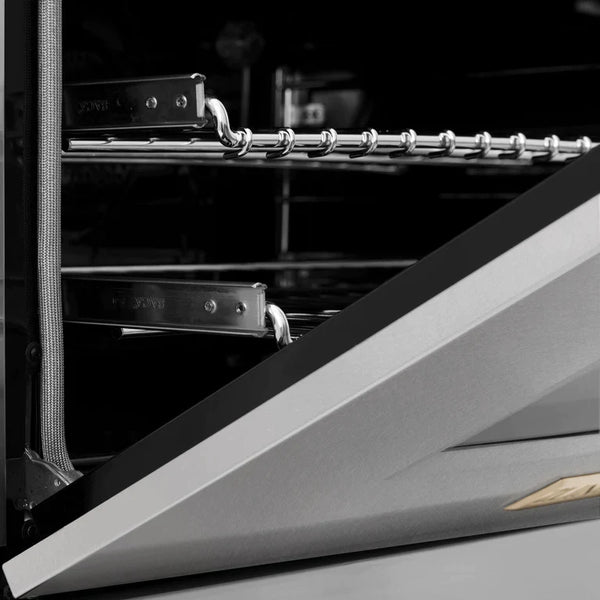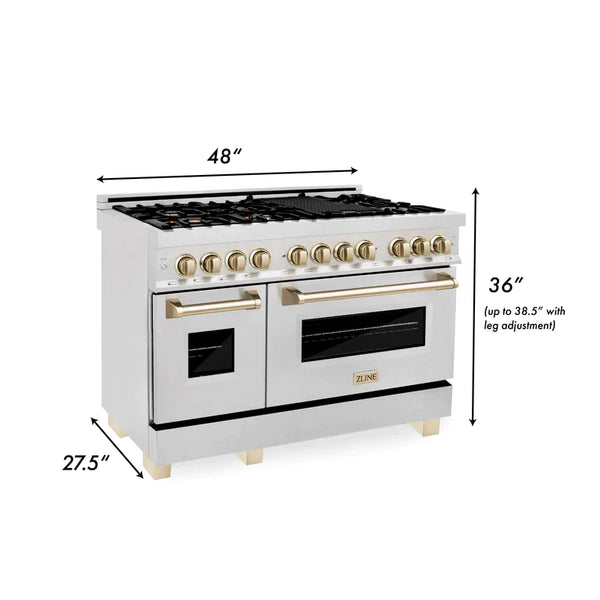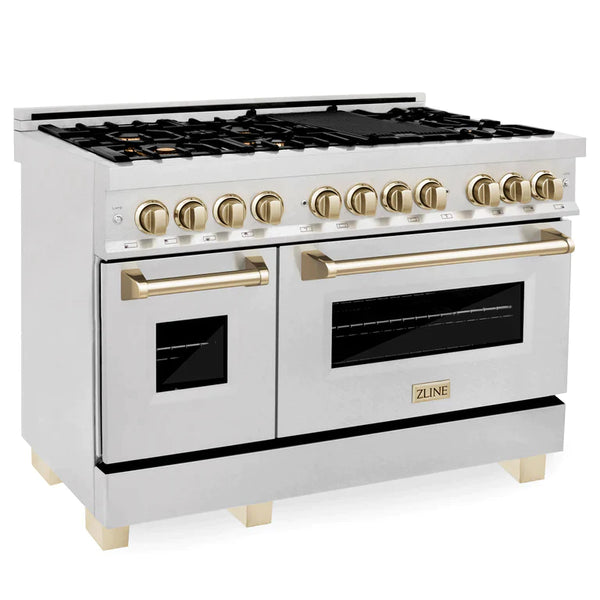 Zoom In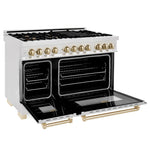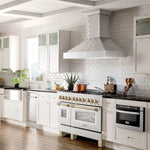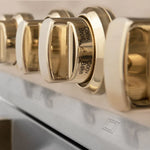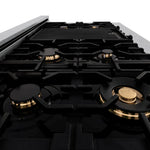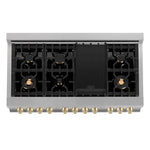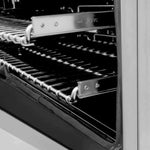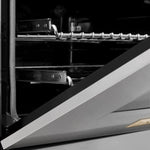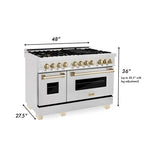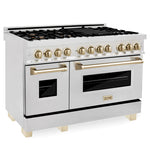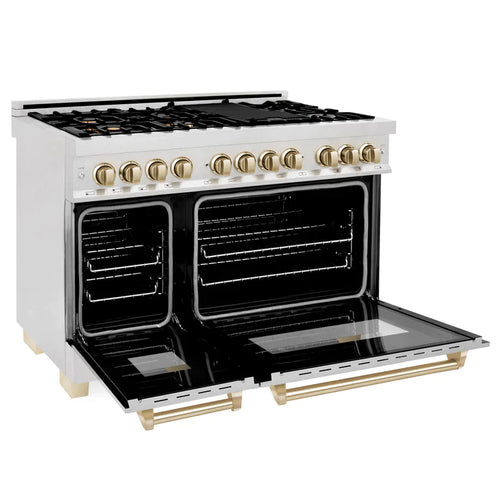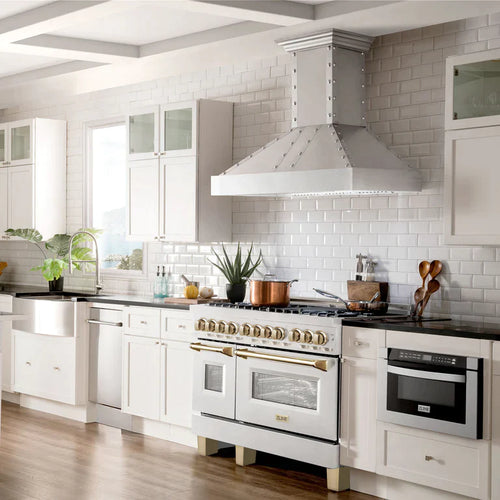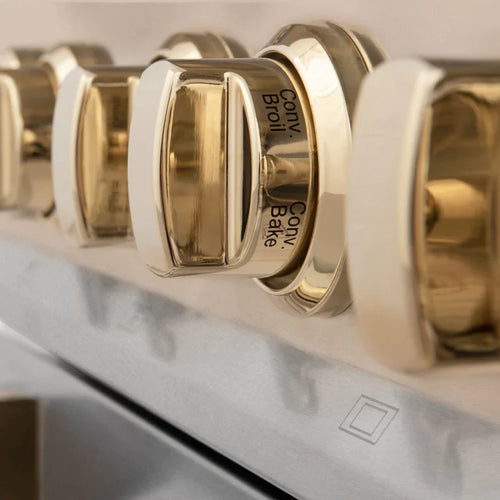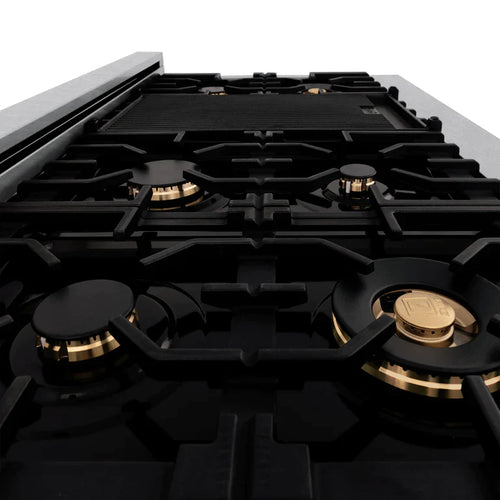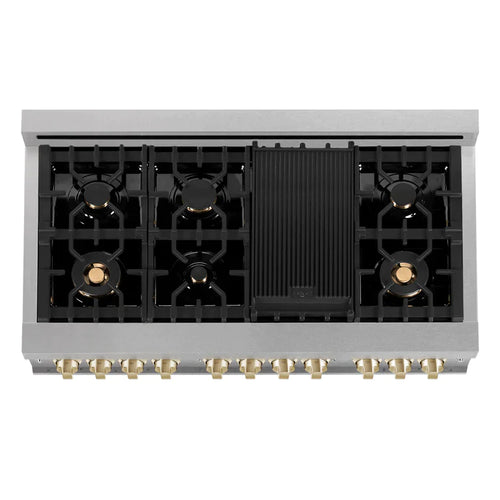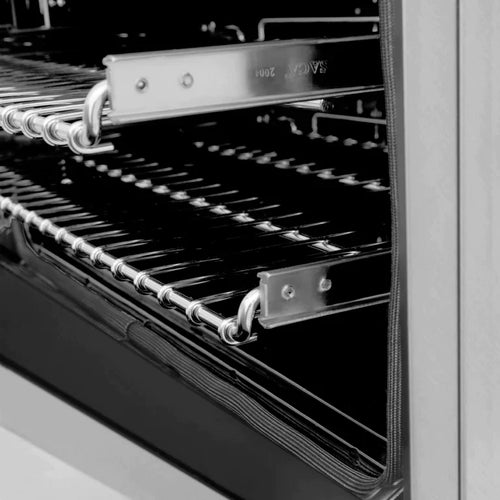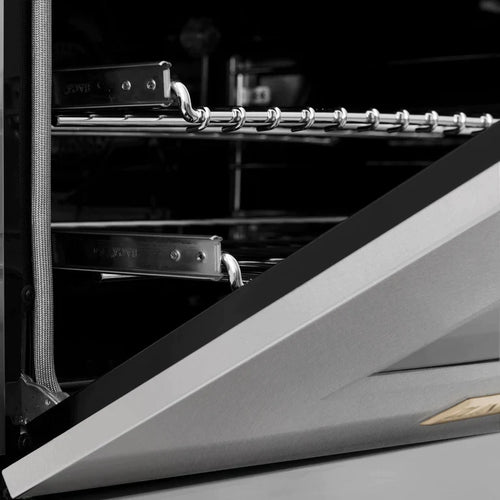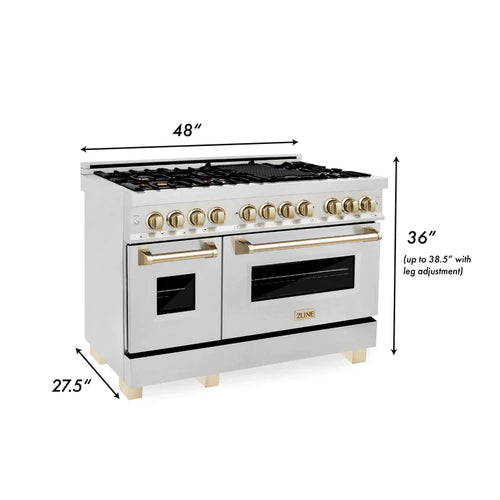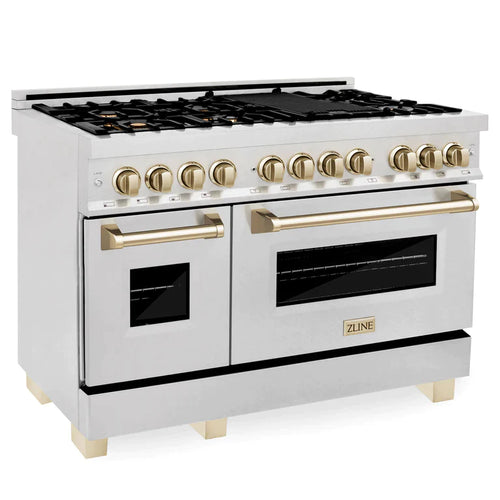 ZLINE
★
★
★
★
★
(2) reviews
Regular price
$6,499.95 USD
Regular price
Sale price
$6,499.95 USD
Unit price
per
Save $-6,499.95
Sold out
Estimated arrival: between Dec, 09 - Dec, 18
In Stock, Ready To Be Shipped
Free Shipping to USA 🇺🇸
Authorized Dealer
View full details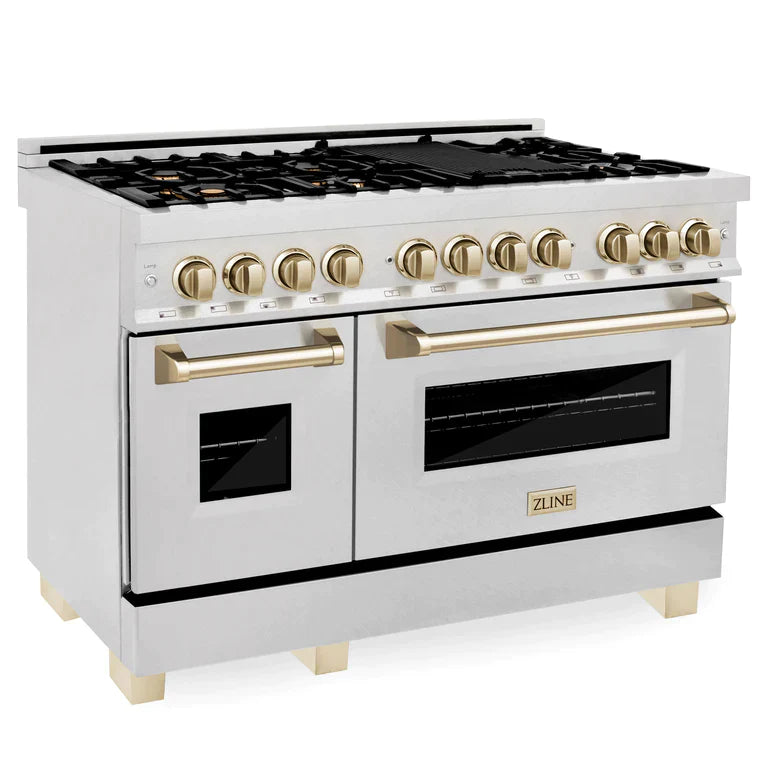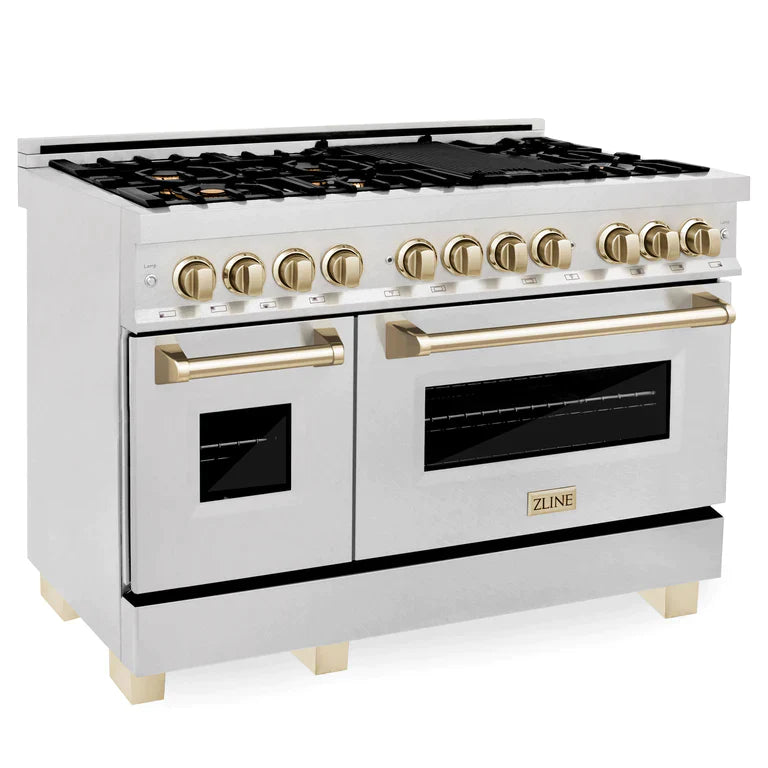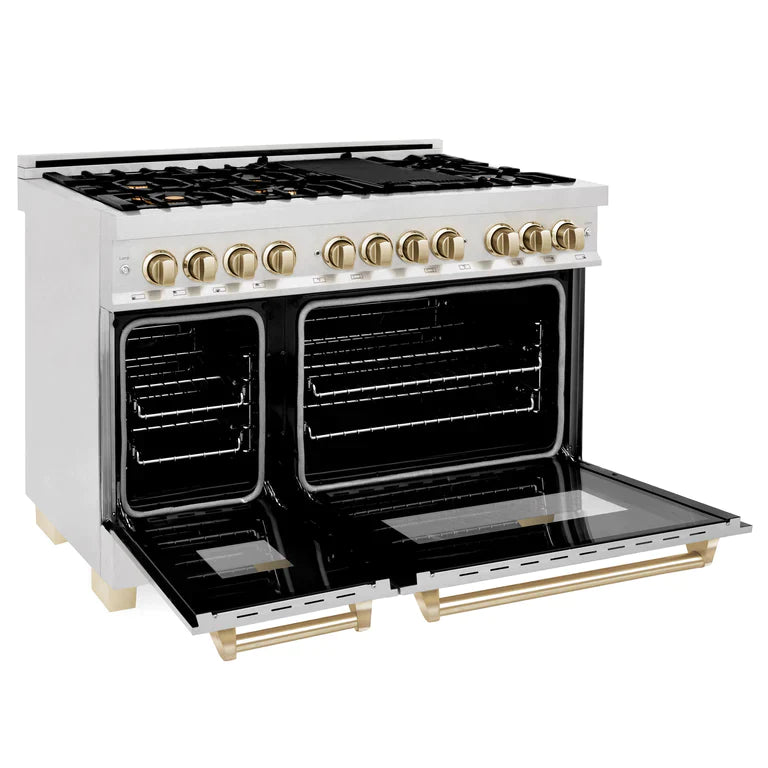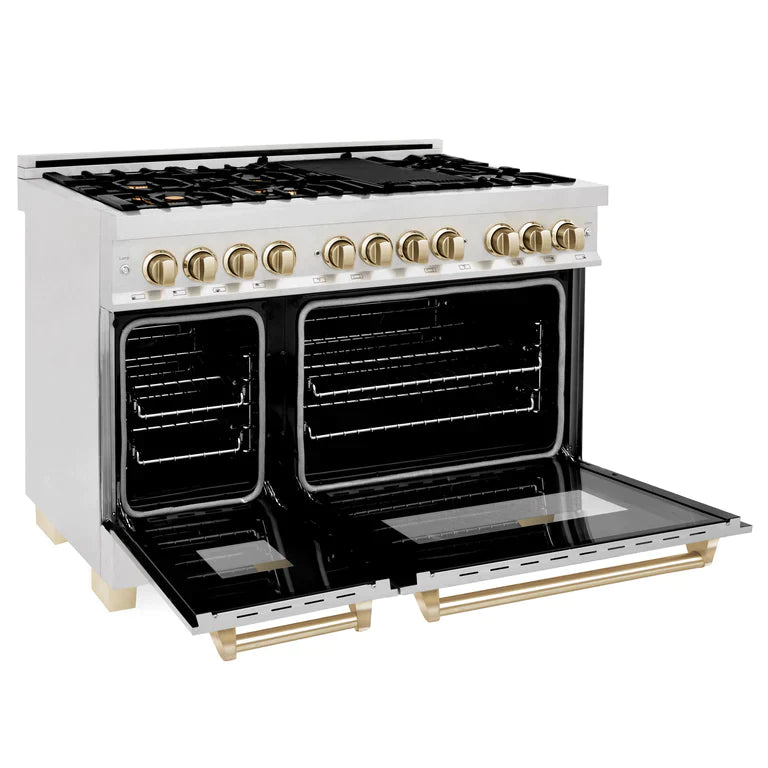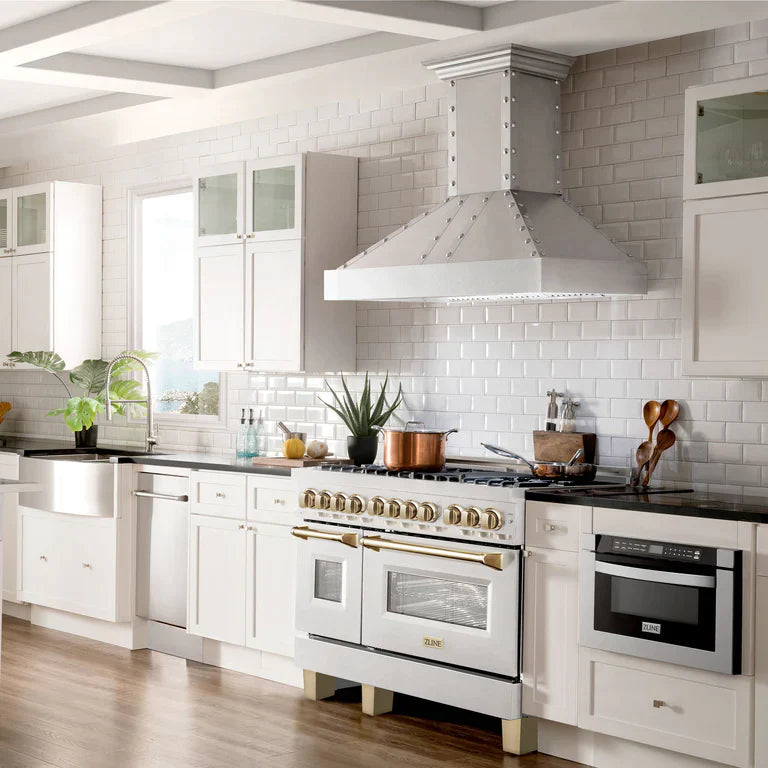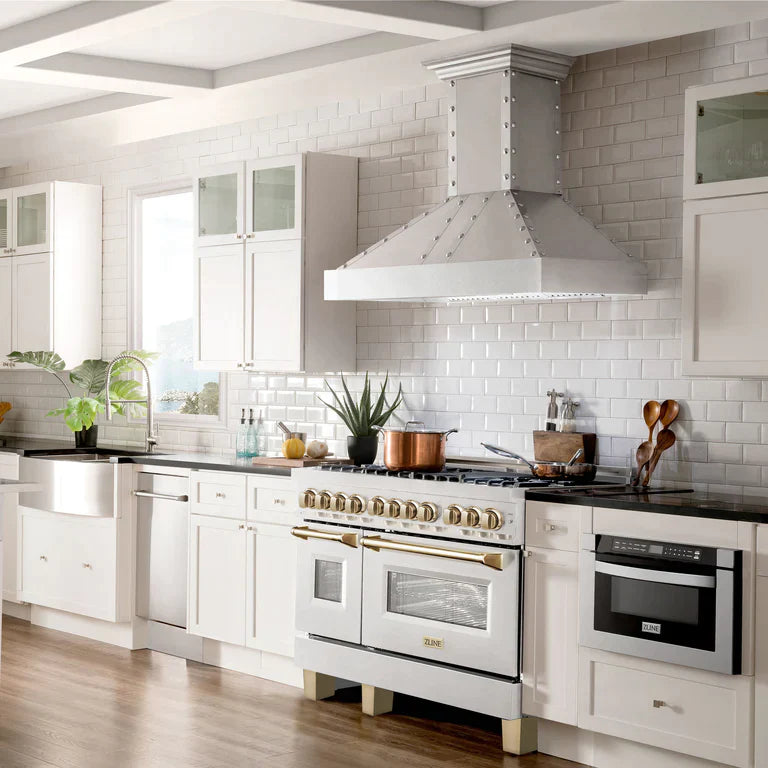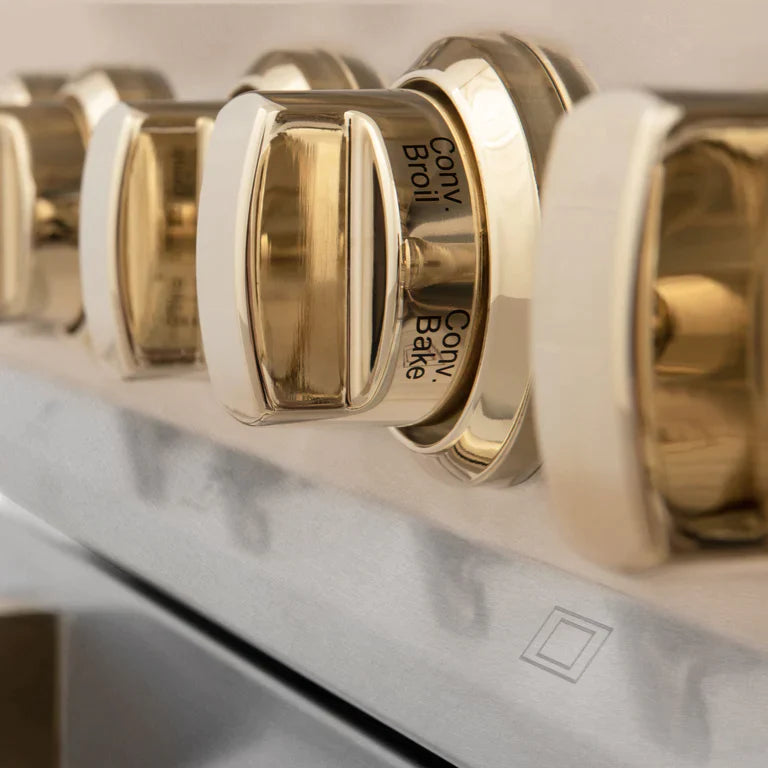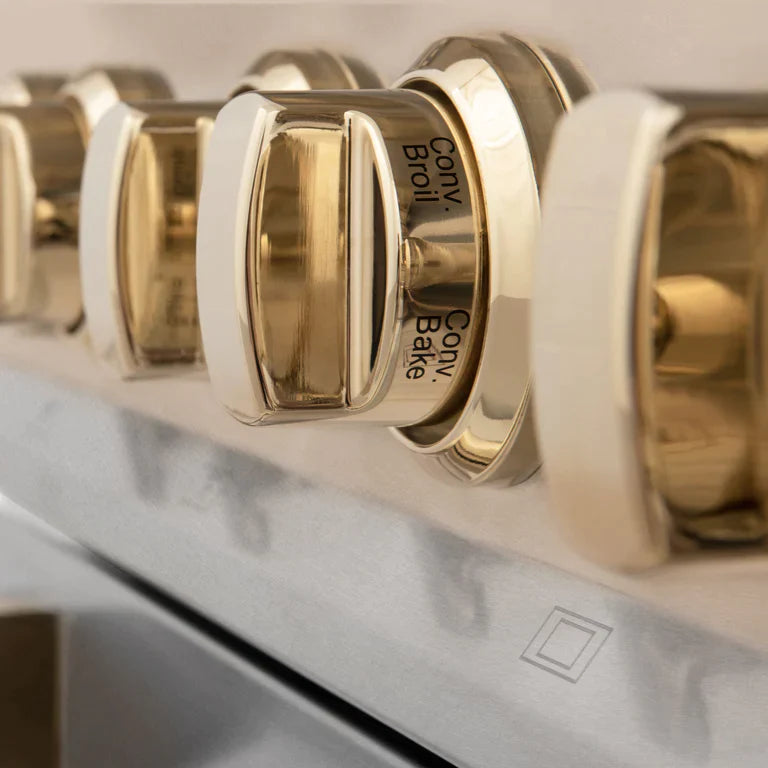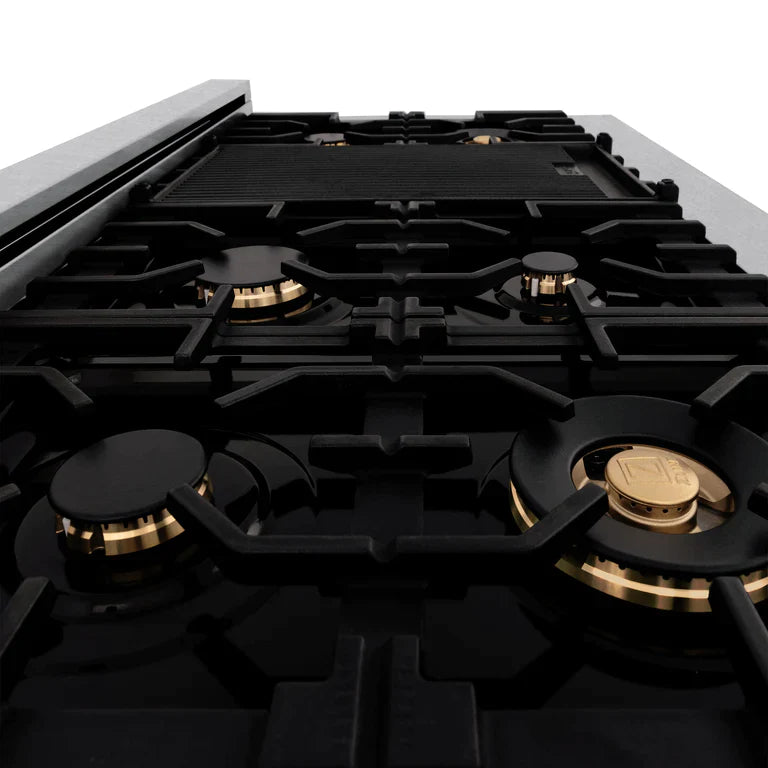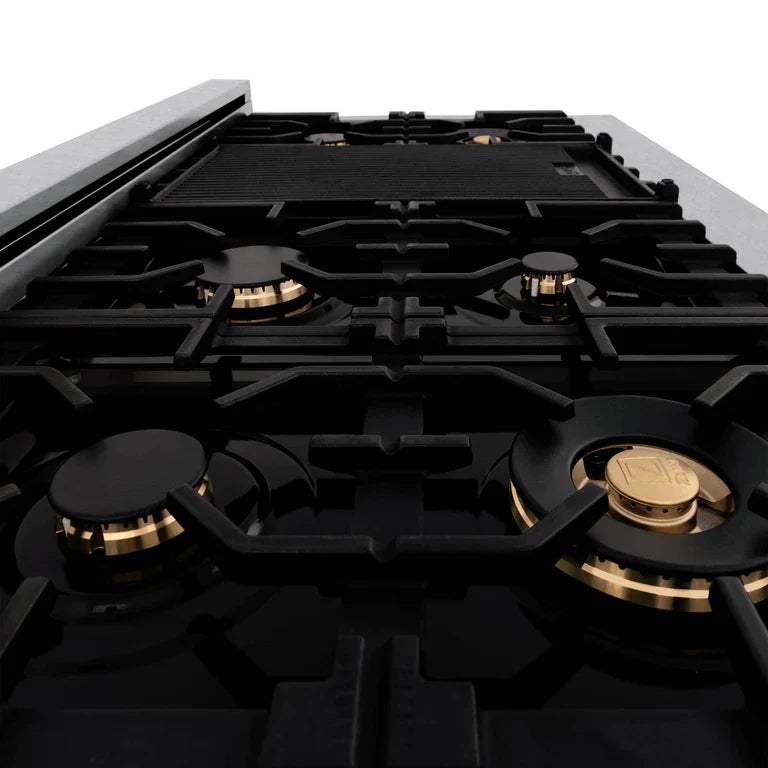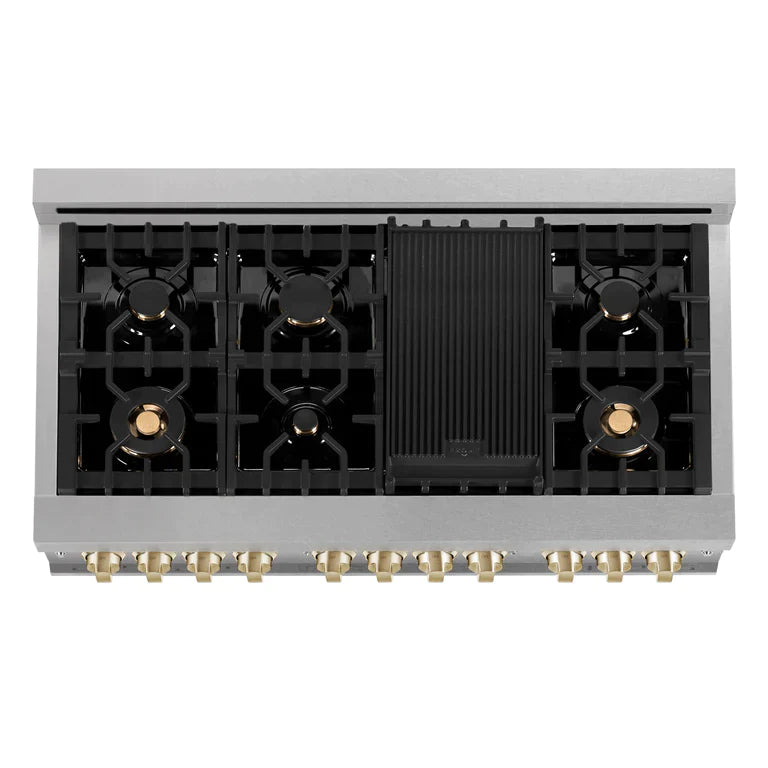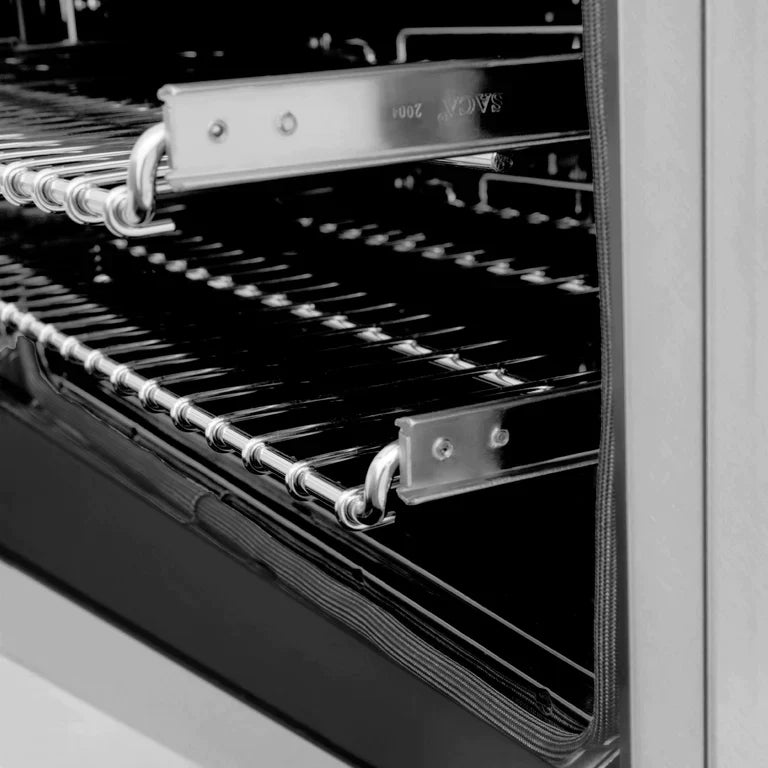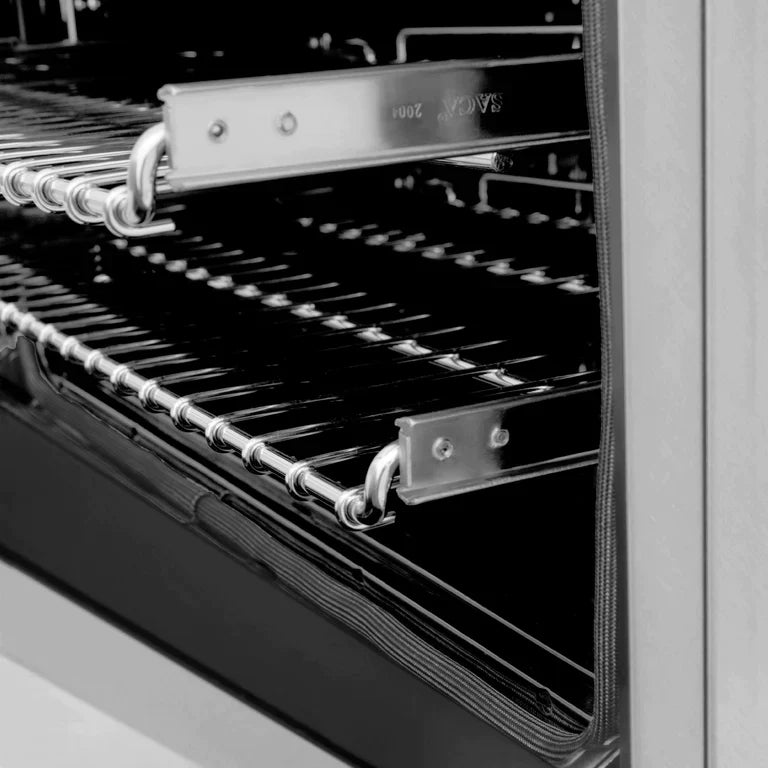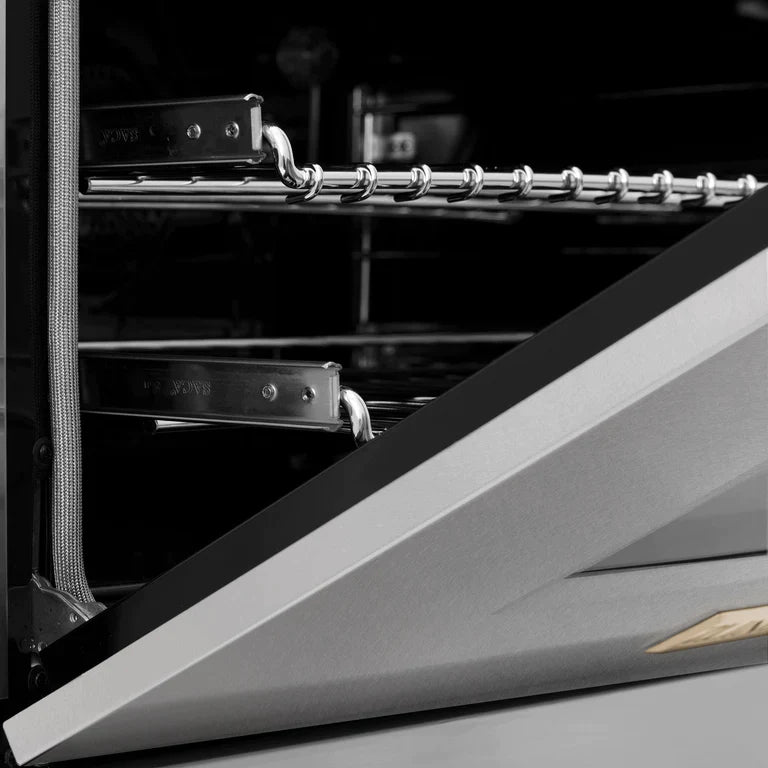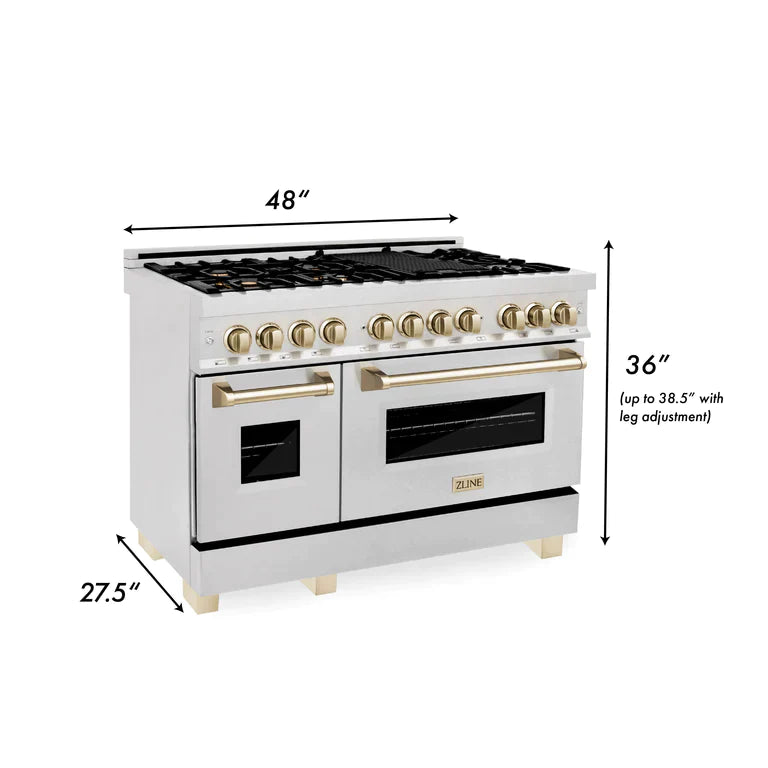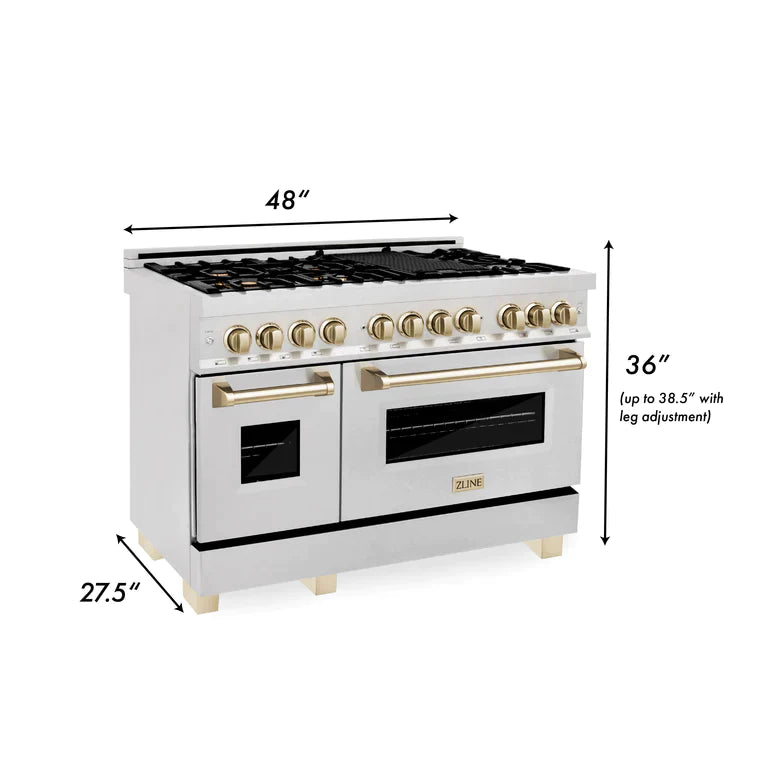 Description
ZLINE Autograph 48 in. Gas Burner/Electric Oven in DuraSnow® Stainless Steel with Gold Accents
Introducing a professional range worthy of participating in every family tradition. The all new ZLINE Autograph Edition has arrived, encompassing precision, luxury, and expression.
Experience Attainable Luxury® with the ZLINE Autograph Edition Dual Fuel Range in DuraSnow® stainless steel. Inspired by the elegance and snow-capped mountains of our home in Lake Tahoe, the Autograph Edition in DuraSnow® stainless steel provides an elevated luxury experience. This revolutionary finish resembles the classic look of stainless steel, but provides one-of-a-kind durable features such as its fingerprint resistant finish and the ability to effortlessly diminish scratches created from everyday wear and tear.
Combining the professional power and functionality of a ZLINE Range with stunning gold accents, this sophisticated line of professional ranges brings a new meaning of elegance. Create an unforgettable kitchen unique to your style with gold knobs, handles, legs, and brass burners. Choose from a variety of finishes from ZLINE's Autograph Edition, including: Champagne Bronze, Matte Black and Gold. The beauty of the Autograph Edition is infinite, just like the beauty found in Lake Tahoe and the Sierra Nevada Landscapes. From our home to yours, enjoy a luxurious experience with every Autograph Edition Dual Fuel Range assembled to order in the US.
Product Highlights
Rely on precise and even cooking for every homemade dish with a gas stove and electric convection oven.
ZLINE's Italian brass burners give this range an elevated, timeless pop of color while providing enhanced cooking benefits such as superior heat retention and even flame distribution.
Achieve optimal results from our sealed burners with cooking power from 4,200 up to 18,000 BTUs.
An ultra-deep 6.0 cu. ft. oven capacity with three layers of glass and dual lighting for crystal-clear visibility.
ZLINE's proprietary stay-put hinges are designed to support the full weight of the oven door and hold at any place.
Assembled with the highest quality materials, this range offers a durable, scratch resistant one-piece porcelain cooktop and durable cast iron grates.
SmoothGlide ball-bearing racks make it easier to work with larger, heavier dishes.
Twist legs to adjust total range height anywhere from 36 inches to 38.5 inches.
Every range comes equipped with an LP conversion kit to convert from natural gas to propane; this conversion process must be performed by a professional.
Brass burners naturally form a patina and deeper brass hue to protect the burners from corrosion. This expected oxidation process ensures our brass burners will withstand the highest temperatures and is not cause for a return.
Create a custom kitchen with easy installation - this Autograph Edition range is pre-assembled and shipped out complete with gold knobs, handles, legs, and brass burners.
Non-directional DuraSnow® stainless steel is an everlasting finish that is corrosion, smudge, and fingerprint resistant
1 Year Warranty.
Specifications
Dimensions:

48" W x 27.5" D x 36" H

Oven Dimension:

Right Oven: 26.5" W x 18.5" D x 14" H
Left Oven: 12.5" W x 18.5" D x14" H

Lighting:

Dual Lighting, controlled by a light switch on the front control panel


Voltage:
*Requires a minimum of 220V-240V/60HZ/30-50A (please check your kitchen meets this electrical requirement prior to purchase)
NEMA-14-50 4 wire plug system
Mount Type:

Free Standing

Control Type:

Durable Front Control

Material:

- Stainless Steel frame with 1 Piece Porcelain Top
- Italian made hinges and brass burners


Warranty:

1 Year Full Warranty

Certifications:
ETL Certified
Product Weight:

270 lbs

Cooktop:

- Cooktop: (6) Brass Burners and 1 Fish Burner with Porcelain Cook Top with electronic spark ignition for all burners

- Type:

 

Gas or Propane

- This range is shipped for use with natural gas. It also has an LP conversion kit for propane use included.

Left Oven
- 1.8 cubic feet
- 12.5" W x 18.5"D x 14" H
Right Oven
- 4.2 cubic feet
- 26.5"W x 18.5"D x 14"H
- Convection Oven
BTU Ratings:

- Dual Burner (x2) - 18,000 BTU
- Rapid Burner - 13,000 BTU
- Griddle Burner - 13,000 BTU
- Semi-Rapid Burner (x2) - 8,500 BTU
- Auxiliary Burner - 4,200 BTU

Fuel Type:
- Cooktop: Gas or Propane
- Oven: Convection Electric
Downloads
Warranty & Returns
Questions About Zline?
Our customer support is here to help.
If you have any questions about Zline products, call our toll-free number or talk to us on the chat.
We are here to help.
FREE SHIPPING
Fast and Free Shipping to Continental USA.
TOP RATED CUSTOMER SERVICE
We have excellent customer service. Questions? Call Us at (725) 777-5484.
Shop Other Zline Products