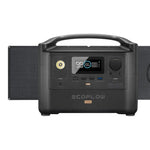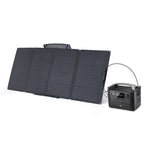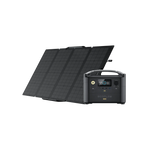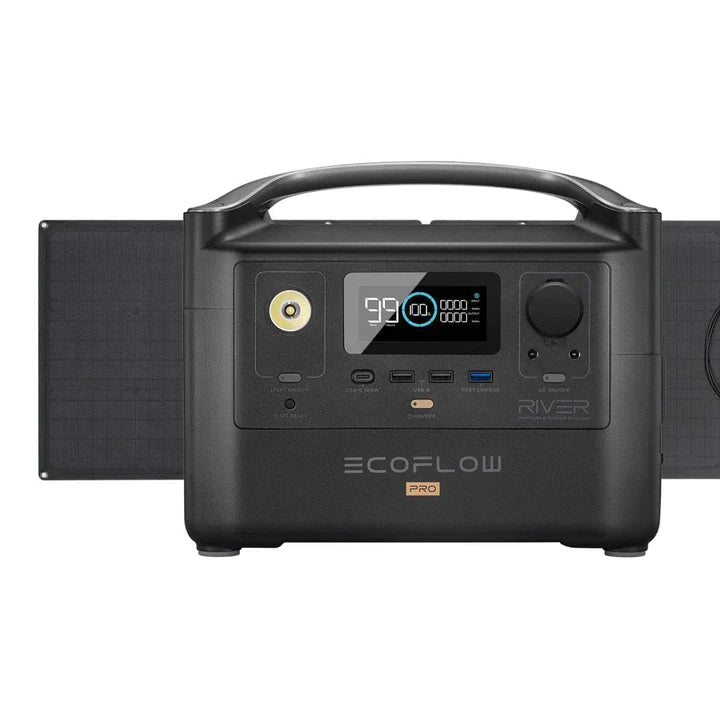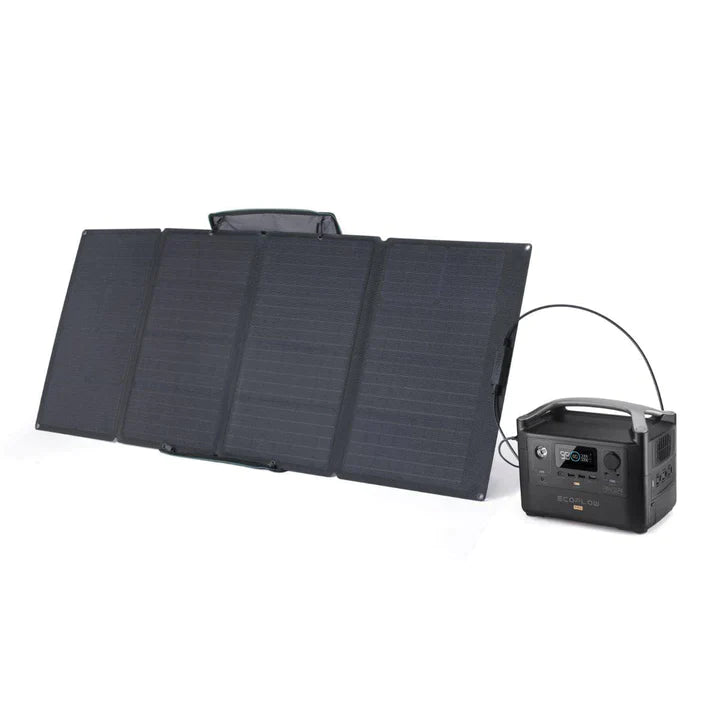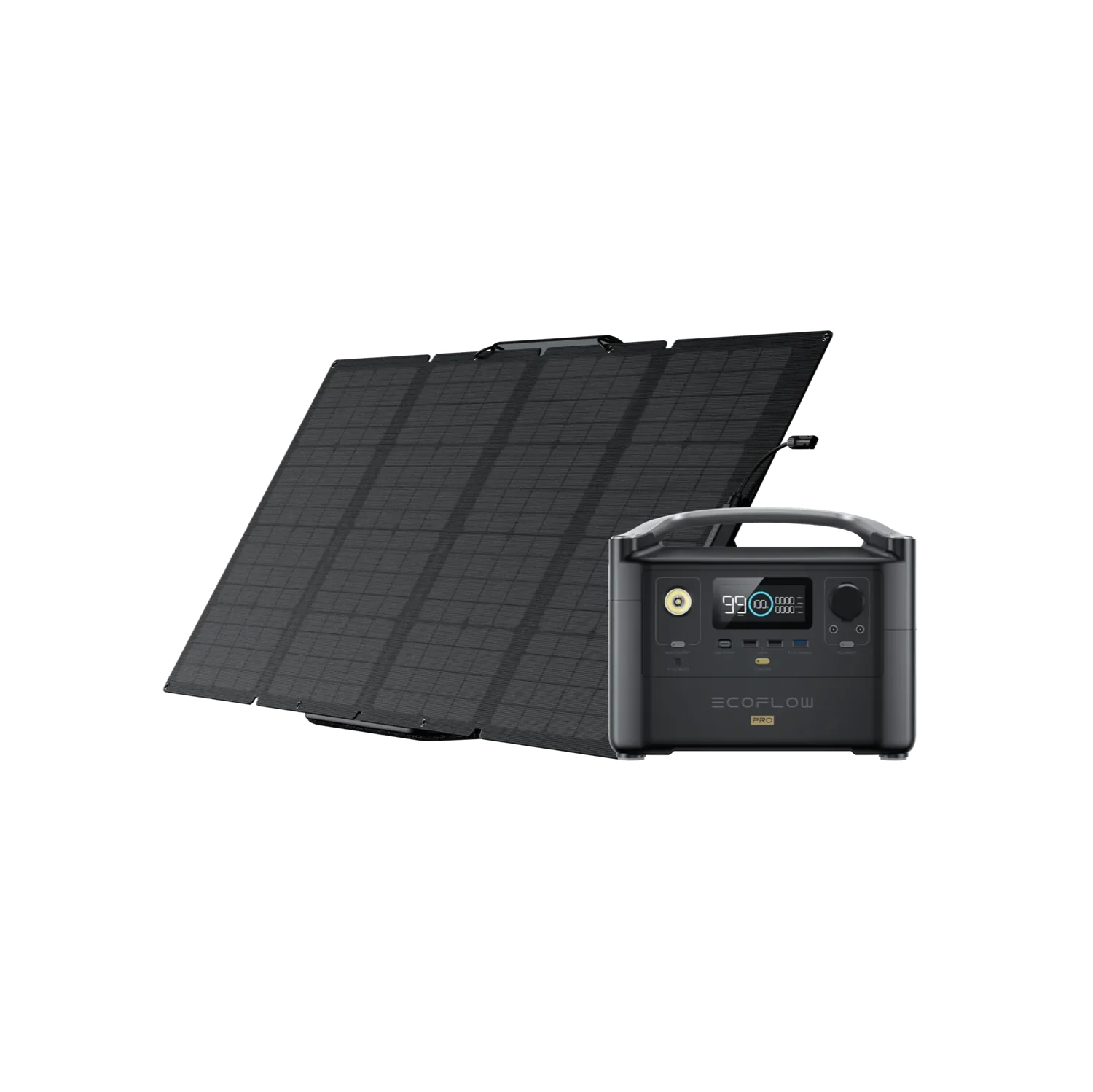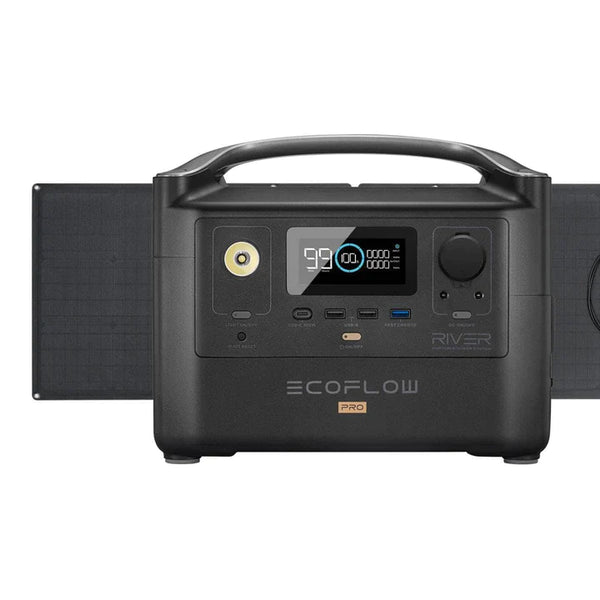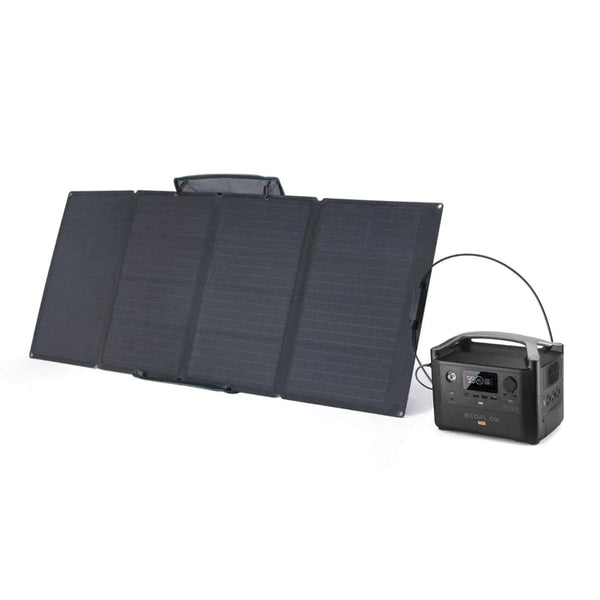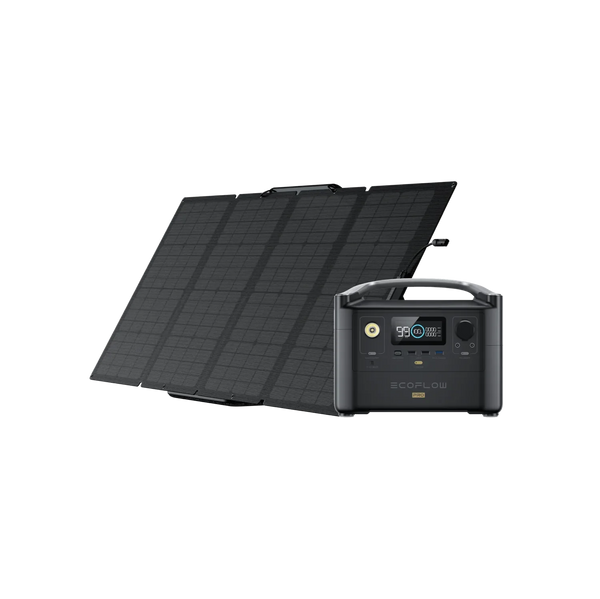 Zoom In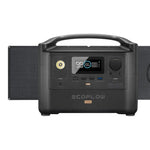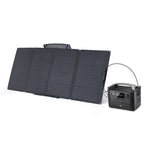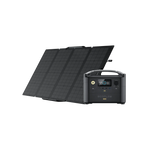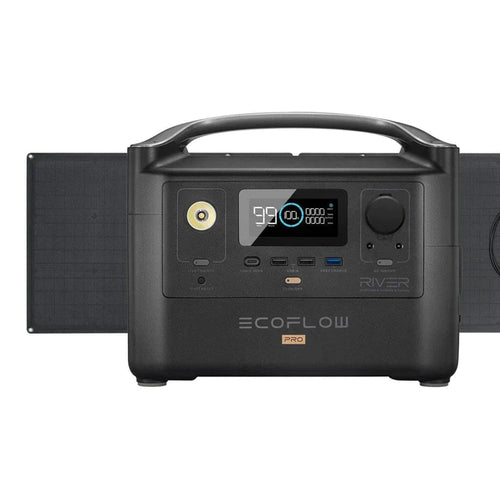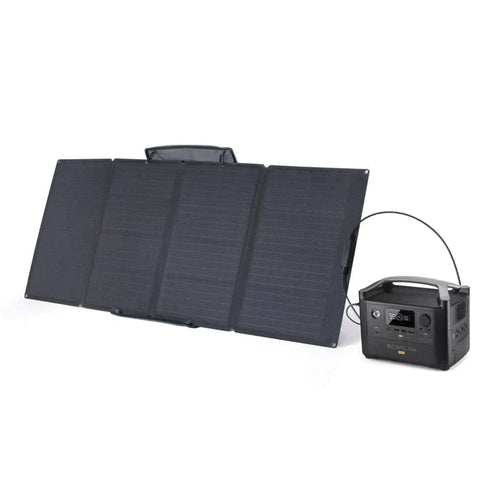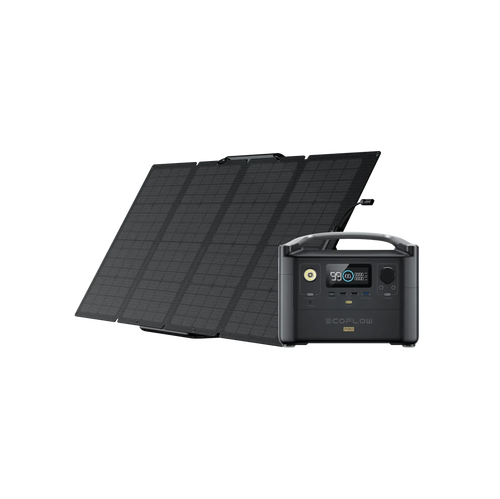 EcoFlow
★
★
★
★
★
(9) reviews
Regular price
$769.00 USD
Regular price
Sale price
$769.00 USD
Unit price
per
Save $-769.00
Sold out
View full details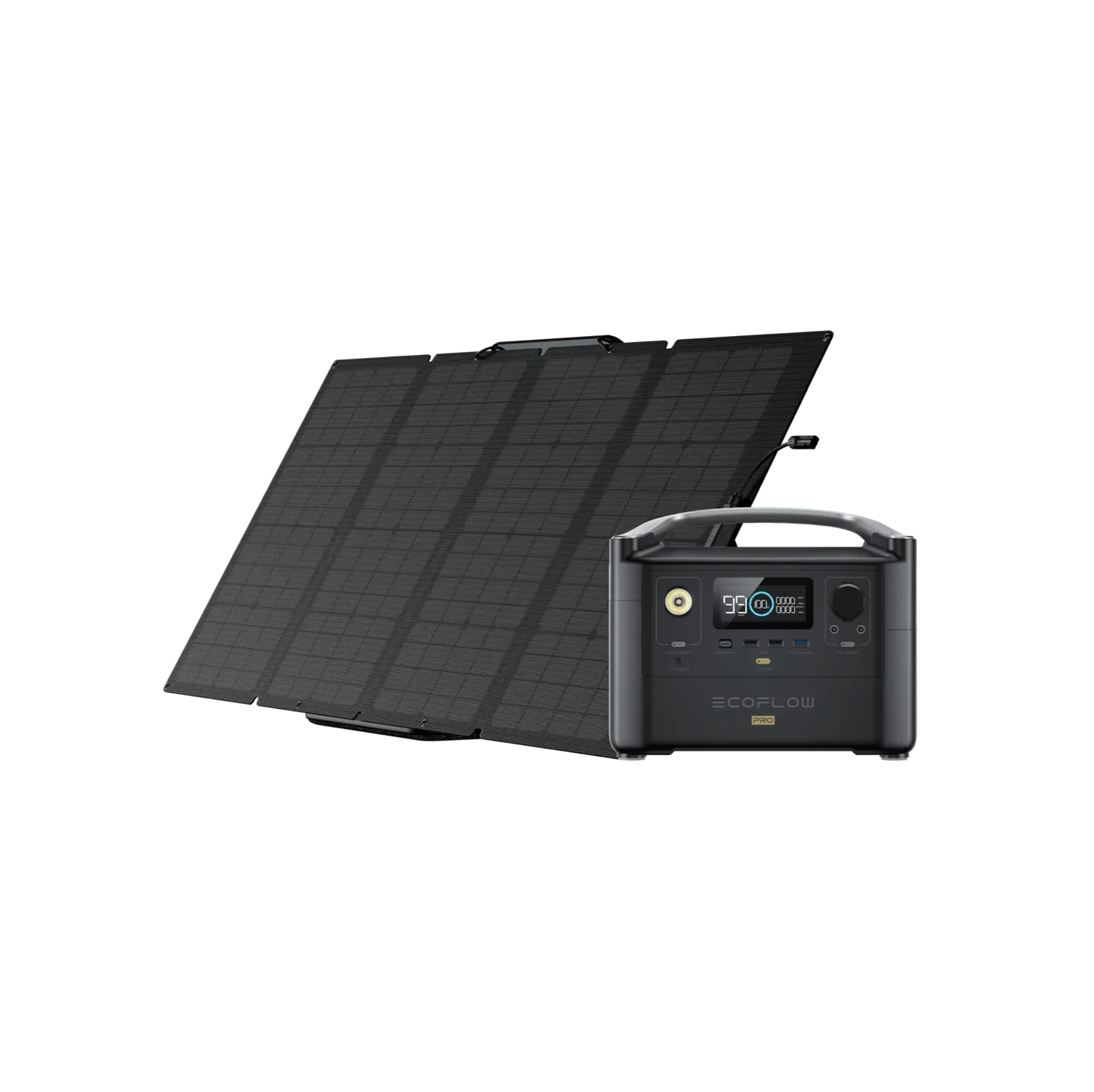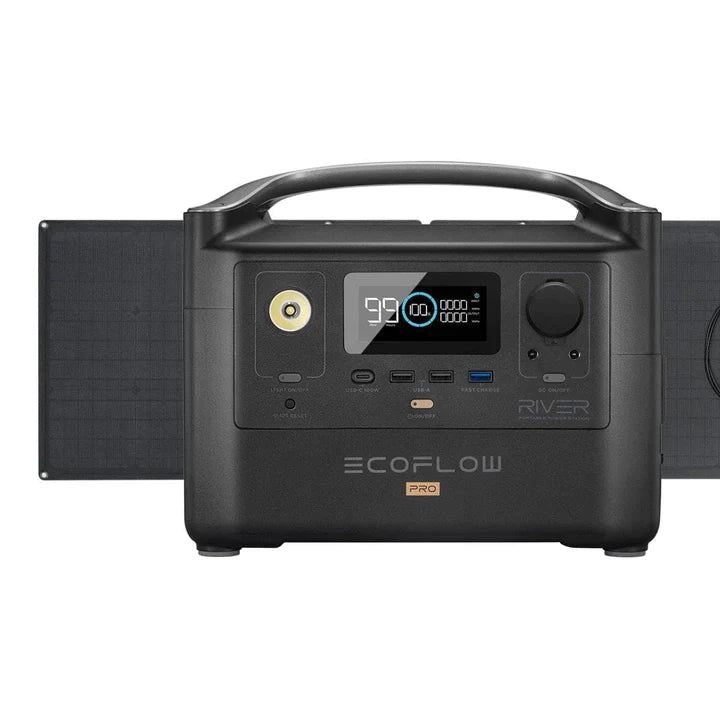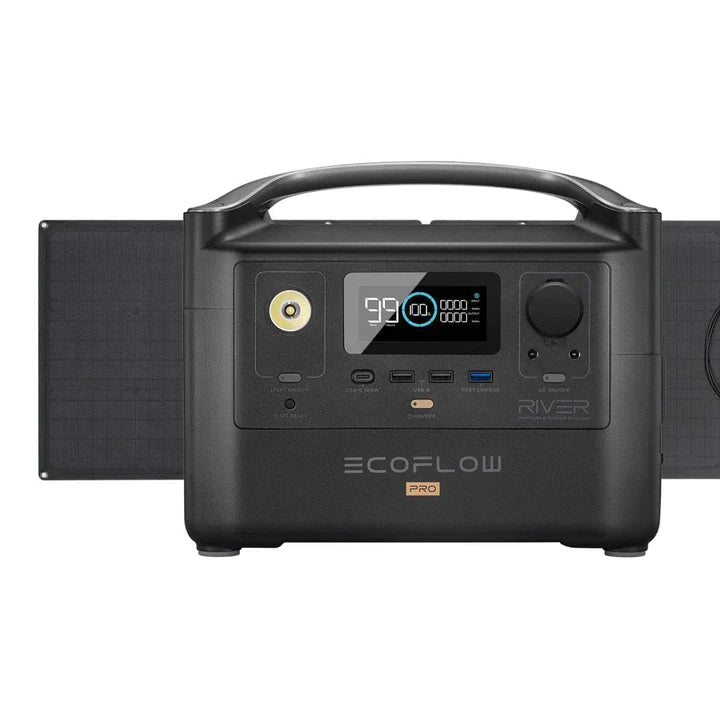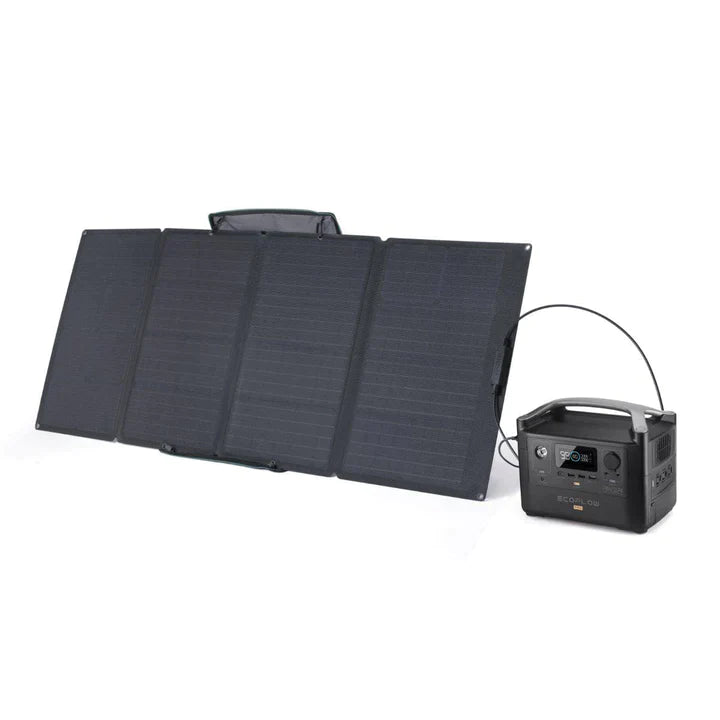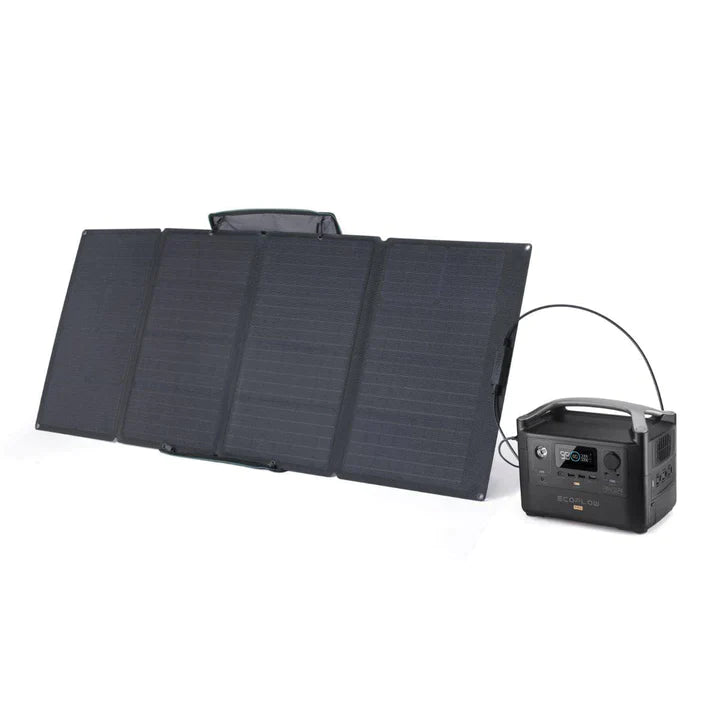 Description
EcoFlow RIVER Pro + 1x 160W Solar Panel
3 x 600W AC OUTLETS AND 720Wh CAPACITY
The RIVER Pro can power up to 10 devices simultaneously with multiple outlet options, including 3 pure sine wave AC outlets. It offers up to 720Wh power, and it weighs just 15.9lbs, which makes it a portable power source for adventure on the go.

RECHARGE FROM 0-80% WITHIN 1 HOUR
The patented EcoFlow X-Stream technology enables you to charge the RIVER Pro from 0-80% within one hour and offers a full charge in just 1.6 hours. Use the EcoFlow 160W Solar Panel to charge RIVER Pro in 7.5-15 hours at a charging rate of 10-25V/12A max, 200W max input.

INTELLIGENT SOLAR CHARGING
The EcoFlow 160W Solar Panel has a high conversion efficiency of 21-22%. Combine the 160W Solar Panel with an EcoFlow Power station to enjoy improved solar charging in cold and cloudy environments.

DURABLE, DUST & WATER RESISTANT
The EcoFlow 160W Solar Panel has IP67 rated dust and water resistance, which is thanks to a seamless, one-piece design, making it ideal for outdoor activities like camping and hiking. An ETFE film provides extra protection against ultraviolet light, prolonging the lifespan of the product.
Features
Generates up to 1.5kWh daily.

A 1800W output with X-Boost mode on to power up to 90% of devices.

A high conversion rate guarantees a fast solar charging speed: 0-100% in 5.5 hours (1 set).

IP68 dust and water resistance. It works well in extreme conditions.

Smart remote control from anywhere with EcoFlow app.

2-year warranty for RIVER Pro and 12-month warranty for 160W Portable Solar Panel.
Specifications
Specs of RIVER Pro


Net Weight - 16.8 lbs (7.6kg)

Dimensions - 11.4 x 7.1 x 9.3in (28.9 x 18.0 x 23.5cm)

Charge Temperature - 32 to 113°F +/- 5°F (0 to 45°C +/- 3°C)

Discharge Temperature -4 to 113°F +/- 5°F (-20 to 45°C +/- 3°C)

Color - Black

Warranty 24 months

Charging Method - AC Wall Outlet, 12V Car Adapter, Solar Panel(s)

Full Recharge Time - 1.6 Hours (AC) 8 Hours (12V Car Adapter) 4-8 Hours (Using 2x 110W Solar Panels in parallel with direct sunlight) 6-12 Hours (Using 1x 160W Solar Panel with direct sunlight)

Capacity - 720Wh (28.8V)

Cell Chemistry - Lithium-ion

Shelf Life - 1 year (once fully charged)

Cycle Life - 800 cycles to 80%+ capacity

Management Systems - BMS, Over Voltage Protection, Overload Protection, Over Temperature Protection, Short Circuit Protection Low Temperature Protection, Low Voltage Protection, Overcurrent Protection

Testing and Certifications - UL Standard, CE, FCC, RoHS, RCM

AC Charge Input Power - X-Stream Charge 660W Max

AC Charge Input Voltage - 100-120Vac (50Hz/60Hz)

Solar Charge Input - 200W 10-25Vdc 12A Max

Car Charger - 12Vdc 8A Max

AC Output (x3) - 600W (Surge 1200W) total, 120Vac ( 50Hz/60Hz)

USB-A Output (x2) - 5Vdc, 2.4A, 12W Max per port

USB-A Fast Charge (x1) - 5V/2.4A,9V/2A,12V/1.5A 18W Max

USB-C Output (x1) - 5Vdc, 9Vdc, 12Vdc, 15Vdc, 20Vdc, 5A, 100W Max

Car Power Output (x1) - 136W, 13.6Vdc, 10A Max

DC5521 Output (x2) - 13.6Vdc, 3A Max per port
Specs of 160W Solar Panel

Weight- 15.4 lb (Solar Panel 11 lb)

Unfolded Dimensions - 61.8 26.8 × 1.0 in (158 × 51.4 × 2.4 cm)

Folded Dimensions - 16.5 × 26.8 × 1.0 in (42 × 51.4 × 2.4 cm)

Warranty - 12 months

Rated Power - 160W (±5W)

Efficiency - 21%–22%

Connector Type - Solar Connector

Open Circuit Voltage - 21.4V (Vmp 18.2V)

Short Circuit Current - 9.6A (Imp 8.8A)

Cell Type - Monocrystalline Silicon

Operating & Storage Temperature −4°F to 185°F
About EcoFlow
How

 

It All Started
Everyone deserves the right to access power. We started out in 2017 with a group of battery engineers who had a vision to power a new world — actively transitioning the world from outdated power sources to a future of sustainable, renewable power.
Today, as a portable power and renewable energy company, EcoFlow leads the way forward with industry-leading portable power solutions, solar technology, and the world's first smart home ecosystem.