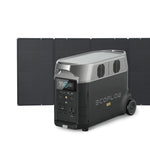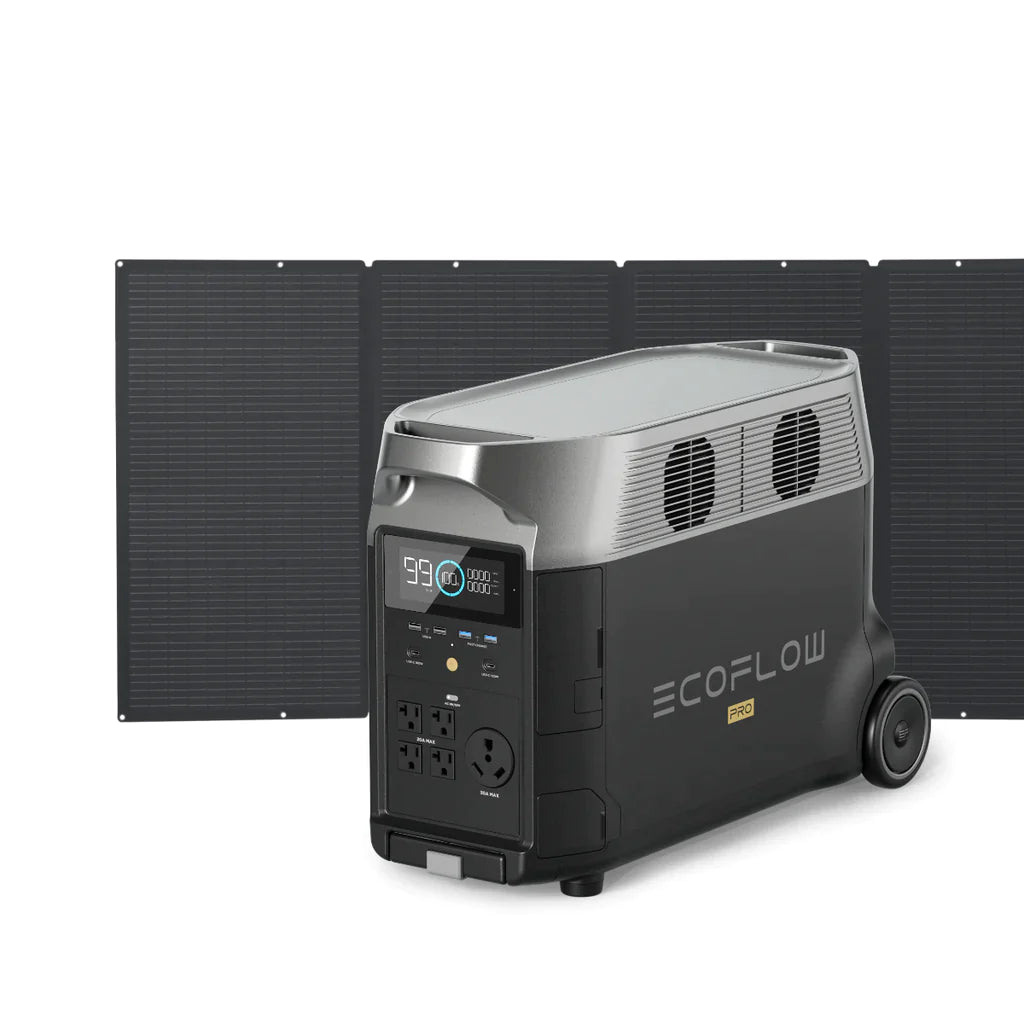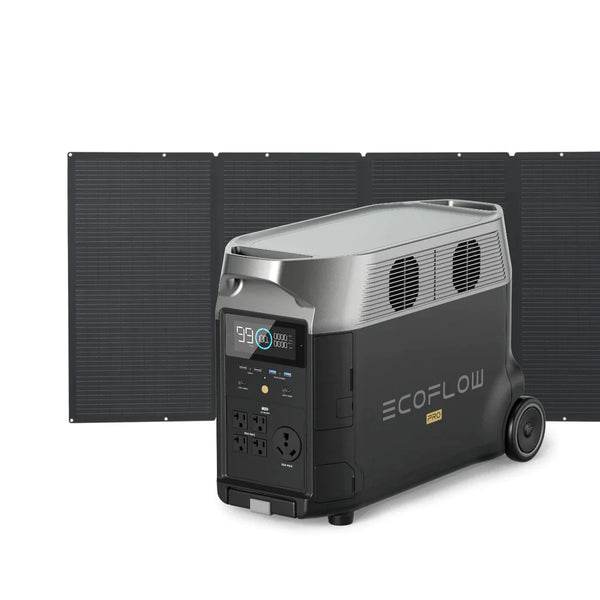 Zoom In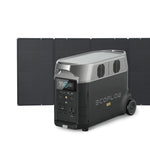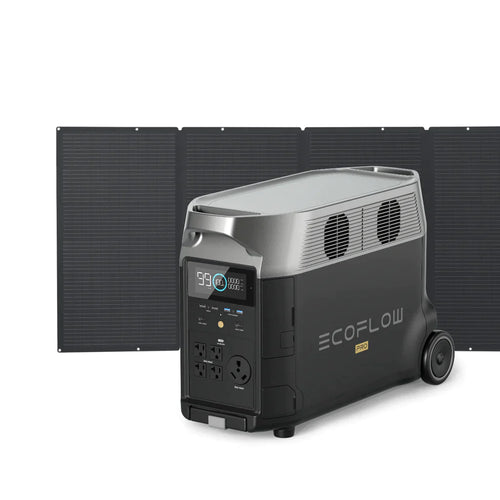 EcoFlow
★
★
★
★
★
(9) reviews
Regular price
$4,499.00 USD
Regular price
Sale price
$4,499.00 USD
Unit price
per
Save $-4,499.00
Sold out
View full details
Description
EcoFlow DELTA Pro + 1*400W Solar Panel
The portable home battery: DELTA Pro sports a 3.6kWh capacity that can be expanded all the way to 25kWh. The kicker? You can integrate it directly with your home circuits via the Smart Home Panel. Ideal for home backup.
Power pretty much anything: DELTA Pro leads the industry when it comes to AC output. With 3600W you've got a portable generator that can power heavy-duty appliances such as dryers, AC units & more. Need even more power? Pair two units together to hit a massive 7200W. 
Portable & Lightweight With an input of 400W, this is one of the most powerful foldable solar panels on the market.  Weighing only 12.5 kg, the lightweight design and built-in shoulder strap makes it ideal for outdoor adventurers. 
Self-supporting The protective case conveniently turns into a stand that adjusts from 40-90° allowing the solar panels to capture the most rays. 
Features
An economical home backup solution

 

that protects your home from frequent power outages.

Generates up to 11.2kWh daily.

A 4500 AC output with X-Boost.

Up to 23% conversion with a unique two-in-one bifacial design to guarantee a fast solar charging speed: 0-100% in 5 hours (4 sets), 6.5 hours (3 sets), and 10 hours (2 sets).

IP68 dust and water resistance.

Smart remote control with EcoFlow app.

5-year warranty for DELTA Pro and 12-month warranty for 220W Bifacial Portable Solar Panel.
Specifications
Capacity - 3600Wh
Extra Battery - Support up to two DELTA Pro Smart Extra Battery/Smart Generator
AC Output - 5 outlets, 3600W total (Surge 7200W)
Max Device(s) Power Supported by X-Boost - 4500W
USB-A Output - 2 ports, 5V, 2.4A, 12W Max per port
USB-A Fast Charge - 2 ports, 5V, 2.4A / 9V, 2A / 12V, 1.5A, 18W Max per port
USB-C Output - 2 ports, 5/9/12/15/20V, 5A, 100W Max per port
Car Power Output - 12.6V, 10A, 126W Max
DC5521 Output - 2 ports, 12.6V, 3A, 38W Max per port
Anderson Port - 12.6V, 30A
AC Charging Input - 1800W Max, 120V~15A, 3000W Max, 240V~12.5A
Solar Charging Input - 1600W Max, 11-150V, 15A
Car Charging Input - Support 12V/24V battery, 8A
Battery Chemistry - LFP
Cycle Life - 6,500 cycles to 50% capacity, 3,500 cycles to 80% capacity
Connection - Wi-Fi, Bluetooth, wired
Net Weight - Approx. 99lbs/45kg
Dimension - 25*11.2*16.4 in/63.5*28.4*42cm
About EcoFlow
How

 

It All Started
Everyone deserves the right to access power. We started out in 2017 with a group of battery engineers who had a vision to power a new world — actively transitioning the world from outdated power sources to a future of sustainable, renewable power.
Today, as a portable power and renewable energy company, EcoFlow leads the way forward with industry-leading portable power solutions, solar technology, and the world's first smart home ecosystem.